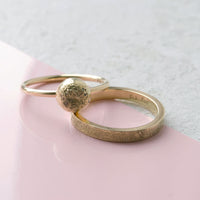 Commission Service
Get in touch if you would like create your own personalised, unique jewellery. I make engagement and wedding rings to order and can even reuse your own gold to create beautiful pieces you can enjoy forever. 
Texture and Structure
As a jewellery maker I am obsessed with texture and structure in my work. Each piece of handmade jewellery I produce has a unique organic surface texture often combined with a geometric sculpture formed from scoring and folding. Find out more about my handmade jewellery techniques and the designer behind Cloughley Jewellery.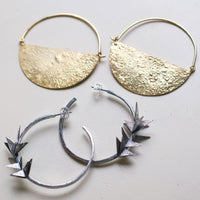 A Scottish designer in Copenhagen
"Back in 2012 I came to Copenhagen while I was visiting family in Malmo. I totally fell in love with the city and decided would spend a little more time there. That's exactly what a did, and ten years later I call it my home.
Jewellery making has always been my passion and I was excited to learn that Copenhagen is a hub for independent designers and handmade jewellery. I now share a beautiful workspace in the lovely Østerbro district, with other talented makers. I have claimed permanent residence and set up my business in the city I fell in live with so many years ago.
Have a look at my about page to find out more of my jewellery story, techniques and training, or get in contact to make an appointment to discuss some new bespoke jewellery or visit my Vejrøgade workshop." 
Thanks for visiting my page! 
Caroline x